Stahili is a volunteer-driven movement and needs your help! With your help, we can give children a life that they deserve and spread the word about responsible volunteering.
What is responsible Volunteering?
Stahili Foundation is proud to be part of the worldwide movement of people who give up their free time to volunteer. But when volunteering, whether at home or abroad, we need to make sure that our good intentions do not cause harm to those we seek to help. This is especially true when volunteer work involves vulnerable children.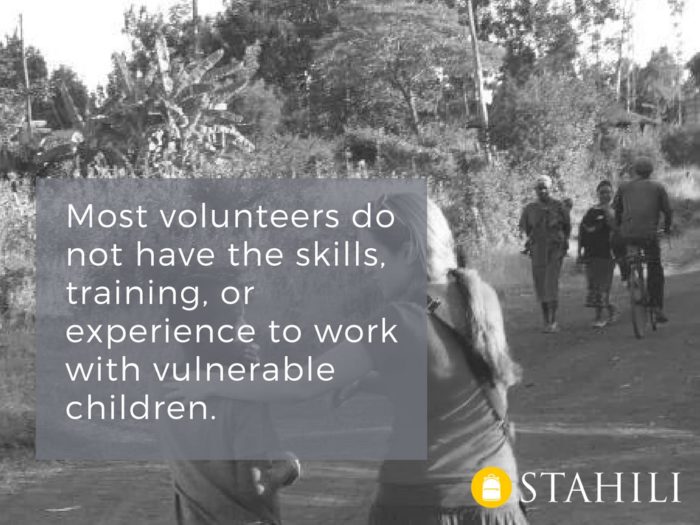 Don't become a "voluntourist"!
In recent years there has been a significant increase in the number of people who volunteer for short periods to work in orphanages. You may have heard them referred to as 'orphanage tourists', part of the rapidly growing global phenomenon of 'voluntourism'.
Volunteers with good intentions can end up unwittingly supporting an orphanage 'industry' which keeps many children away from loving families in institutions which deny them their basic rights, including the right to education.
Volunteering is a commitment and not an opportunity to travel as a tourist. Make sure that your efforts are sustainable, both for yourself and for the organisations you want to help.
Volunteer, but do it responsibly!
If you are considering volunteering, here are a few tips that might help you to make the most out of your experience, and avoid harm to children and other vulnerable persons:
Do your homework – If you are considering a placement with a volunteer organisation, find out as much as you can about the organisation itself.
Avoid working directly with vulnerable children – Volunteers spending short periods of time with vulnerable children, including orphans, can be very damaging for the children concerned. Working with vulnerable children is best left to local professionals, even if you have the experience and qualifications at home.
Know the real costs Paying for a volunteer experience abroad without understanding how the money impacts local communities can cause more harm than good. Instead, why not consider how you could use your skills to volunteer in your own community or look at opportunities to fundraise for organisations working on the ground.
For more information, please contact us at Stahili Foundation and see Stahili In Focus for posts on responsible volunteering.
Be a changemaker!

We need many helping hands to give children a life they deserve. Stahili is thankful for the support of all our volunteers that make our work possible. You too can play an important role in Stahili's work by organising your own event to support children and by donating your time and ideas! Help Stahili continue its mission by volunteering from your home town.

Learn more about pro bono opportunities here